Under Floor Air Conditioning (UfAC™)
Underfloor air conditioning (UfAC) systems make use of the plenum beneath a raised access floor to create the air ventilation zone, eliminating the need for ceiling based services and associated duct and pipework.
Each floor is divided into zones of up to 300m2 depending on the potential use and occupancy density of the area.
Each zone is supplied with chilled or warmed air by a zonal air handling unit or CAM (Conditioned Air Module) and the conditioned air is then delivered into the space using a Fan Terminal Unit. Air travels back to the CAM for re-conditioning either at floor level via the plenum (CAM-C), or at high level (CAM-V). Both CAM-C and CAM-V systems can be configured to be either chilled water (CW) or direct expansion (DX).
Floor Level Supply, Floor Level Return
Video (CAM-C Airflow):
The CAM-C system makes use of the raised floor void as a plenum for the distribution, and the return of air. Within the floor void, flexible baffle material segregates zones into supply and return plena. A CAM-C system is the best option for increasing headroom in height restricted buildings and where ceilings may be left exposed to highlight architectural features.
Floor Level Supply, High Level Return
Video (CAM-V Airflow):
The CAM-V system makes use of the raised floor void as a plenum for the distribution of supply air. Return air is received back to the unit at ceiling or high level. No division in the floor plenum means the CAM-V system is the best option for flexibility and future reconfiguration.
Merits of UFAC System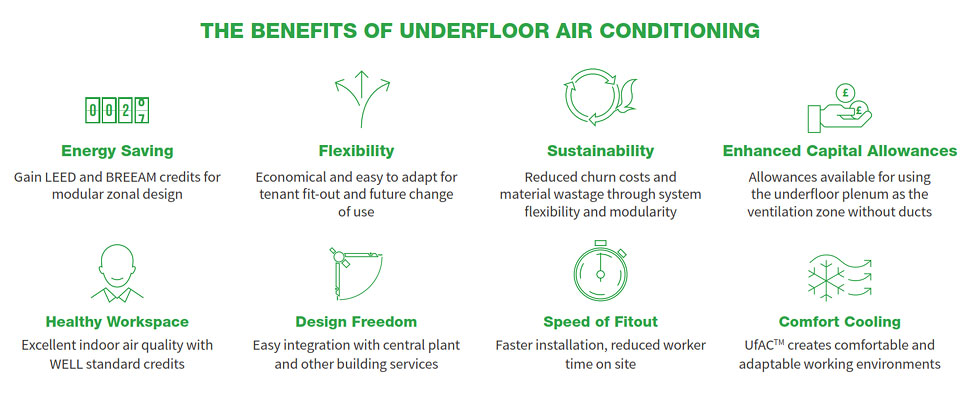 Space saving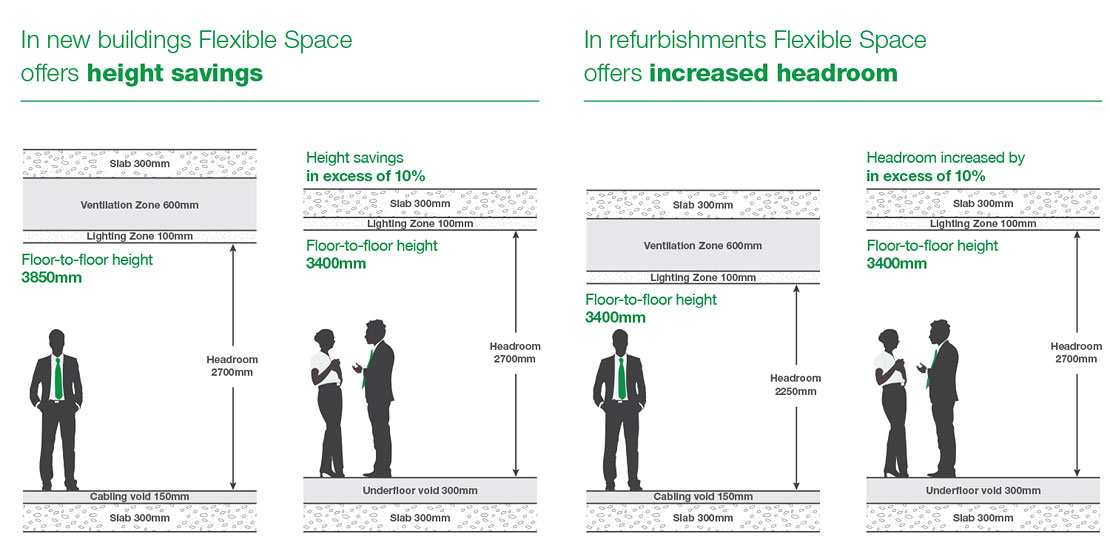 Less waste, a better use of space is our ethos. By eliminating ceiling based services and ductwork our systems have helped achieve around 10-18% reduction of height in new build projects, and increase floor to ceiling heights in height restricted refurbishment projects.
In new buildings Flexible Space offers HEIGHT SAVINGS
In refurbishments Flexible Space offers INCREASED HEADROOM
Flexibility
UfAC systems are inherently flexible, modular in design and equipment is installed at floor level, making it easy to install, maintain and re-arrange to suit the demands of today's agile workspace. The plug and play Fantiles can easily be relocated, offering huge savings when reconfiguring and adapting workspace.
Sustainability
UfAC systems are sustainable by design, with prefabricated and modular fan air terminals and zone downflow units. As there is no ductwork, individual zones operate at very low pressure, encouraging energy efficiency. Our systems have helped attract LEED, BREEAM, WELL and other Green Building points, with up to 30% savings in energy costs and 29% reduction in CO2 emissions reported compared with ceiling systems.
Design Freedom
In older buildings, historical and architectural features can be retained by locating all services under the floor, leaving ceilings fully exposed. Planning constraints can be overcome by reducing new building heights, or by preserving listed features and the inherent flexibility of UfAC systems satisfies unusual layouts and configurations.
Comfort Cooling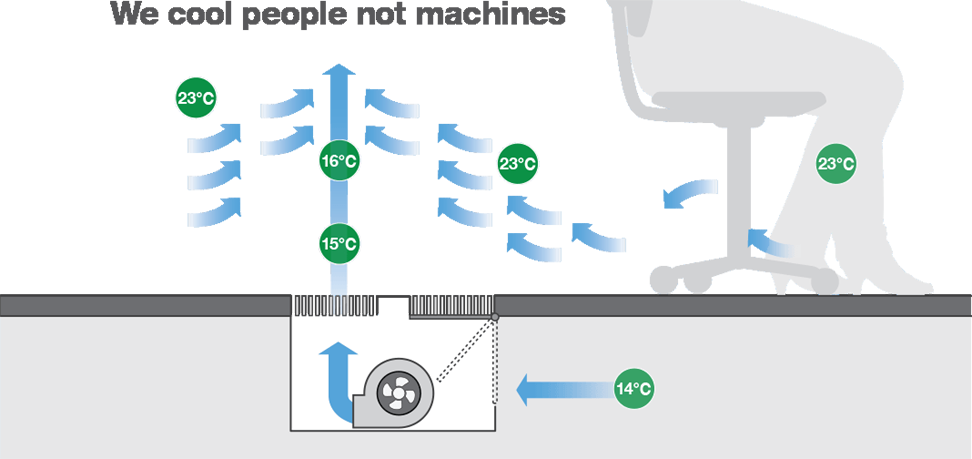 "I'm too hot or I'm too cold" is a commonly heard complaint about air conditioning, as well as complaints of draughts and cold feet. Underfloor systems create minimal draughts, and feature high levels of filtration and individual control of temperature and fan speeds, creating comfortable and adaptable working environments.
Healthy Workspace
We believe in cooling people, not machines. Underfloor systems constantly filter air to provide the optimum, most comfortable and productive working environment. Personal control puts decision making on cooling levels literally in the hands of the individual to create a healthy indoor environment.
Speed of Fit Out
Modular "plug and play" equipment and the reduced need for duct and pipework allows for much faster installation, reduced worker time on site and as a result, can attract earlier rental income. Adapting space from Cat-A shell space to Cat-B for tenant occupancy is fast and easy, making UfAC an ideal option for speculative and multi-tenancy developments.
Construction Cost Saving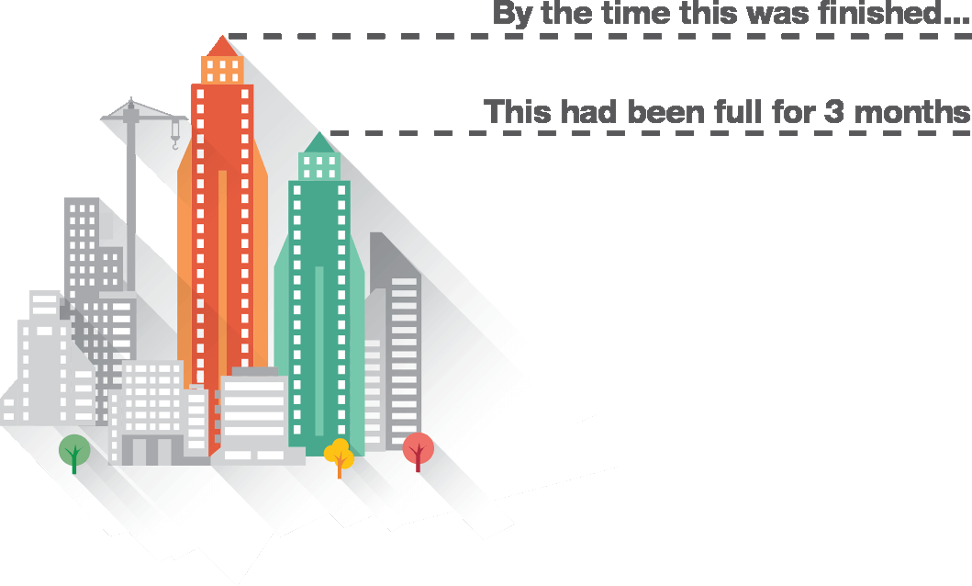 Buildings with UfAC systems have in the past demonstrated in the region of 5-7% saving in total construction costs. These savings are typically realised through building height savings and the subsequent reduction in construction materials and reduced time on site. UfAC systems also attract tax relief through enhanced capital allowances.